Meet the young surfer Anna Kapps
Wir haben Anna bei der Rapid Surf DM 2020 getroffen und waren sehr beeindruckt von ihrer Leidenschaft und Power, die sie ins Surfen steckt.
Anna, erzähl uns etwas über deinen Hintergrund, woher kommst du? Und wo ist dein Home-Spot?
Ich komme aus Berlin und mein Home-Spot ist die künstliche Welle im Wellenwerk.
Wie hast du das erste Mal von Oy gehört?
Ich hatte am Paddle Battle in Berlin teilgenommen. Die Gewinnerin bekam einen Bikini von Oy. Ich gewann und bekam meinen ersten Oy Bikini.
Was liebst du an Oy?
Ich liebe die Tatsache, dass die Produkte aus recyceltem Polyamid oder recyceltem Polyester hergestellt werden und dass sie nachhaltig sind, was perfekt für unsere Umwelt ist. Außerdem sind sie zum Surfen gemacht (von Surfern), also bleibt alles an, egal was passiert (-;
What is your favorite Oy piece?
Oh, I really like the mare/frost bikinis. The combination of the colors is so beautiful! From the cut and color, I find the Santi — misty top amazing too, because blue is my favorite color. Also, the Flores — square dots swimsuit looks so cool.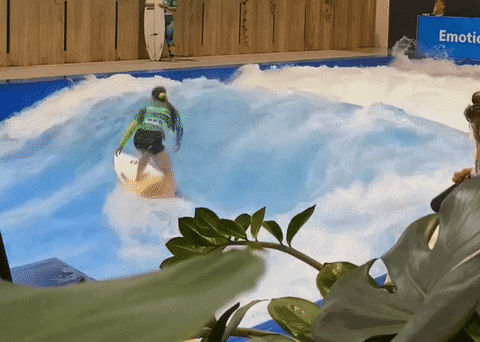 Do you also surf (waves)? And what is the ocean for you?
Yes, I even started in the ocean. It was in a surf—school on Fuerteventura. After standing my first wave, I wanted more and more!
The ocean is very important to me. There you have a very specific connection to nature and you can recharge new energy. It is just a special and beautiful place.
What boards are you riding?
At the moment I am riding a 5'0 feet performance/costume board from Lacrau. It's perfect to cut through the wave. (Sometimes I take a board from Kanoa, too). In the ocean I ride a 5'8 feet board from Lacrau.
We followed your heats at the german rapid surfing championship — how does competing feel for you?
Oh, it was my first surf contest ever. I noticed how much fun it is to compete with other girls. In the future, I would like to continue to participate in contests. And thanks for your support (–;
What are your thoughts on women's rapid surfing?
In my opinion definitely, more girls should try this new sport!!!
What advice would you give someone who wants to start with rapid surfing?
The stance in rapid surfing is very important because at the citywave you have to place your feet very far back on the board. This is a big difference from surfing in the ocean. Also, the arm/body movements are helping you to make better lines and turns. Of course, nothing works if you don't have a little balance (–;
Apart from surfing, what other activity gives you strength and energy?
Besides surfing, one of my favorite sports activities is surf skating in a skate bowl. There I can improve my movements for surfing and of course, it's a lot of fun. My swim training (because I am a professional swimmer since I am 6 years old) also gives me the paddle power in the ocean for surfing. The most energy gives me my boyfriend, who is an amazing surfer, too!
When you're starving after a surf session, what do you like to eat?
I am often hungry after a surf session, so I haven't something special. But my favorite food is spaghetti (because it gives you a lot of energy) and salad.
Instagram: @anna_js.k